NexxtGen's flagship software solution...
Skyview is a map-first site and project management tool built for businesses and enterprises of all sizes.
Site and Project Management
Unlike other project management tools, Skyview focuses on the geographic aspect first and foremost by offering site management so you can tie your project work back to physical locations. With Skyview answering the What, When and Where questions of your work your project and resource management just got easier.
Automation and Analytics
Have a lot of work coming up to plan? Let Skyview help you out. Using everything from weather data to cellular tower locations and availability of resources our machine learning driven algorithms can help you schedule your work to minimize cost, time and headaches. Predictive Analytics offer new insights to make data-driven business decisions in regards to your projects and be alerted to potential service outages before the outage occurs.
Business to Business Interactions
Skyview has a unique set of experience and interactions between companies that aims to close the gaps between customers and vendors. Other monolithic enterprise management solutions are built to be used behind the scenes but Skyview brings your vendors into the fold by allowing you to assign work directly to them in the same applications. This allows companies to get real-time updates from all of their vendors in one place and it allows vendors to service and update their all of their customers in one place too.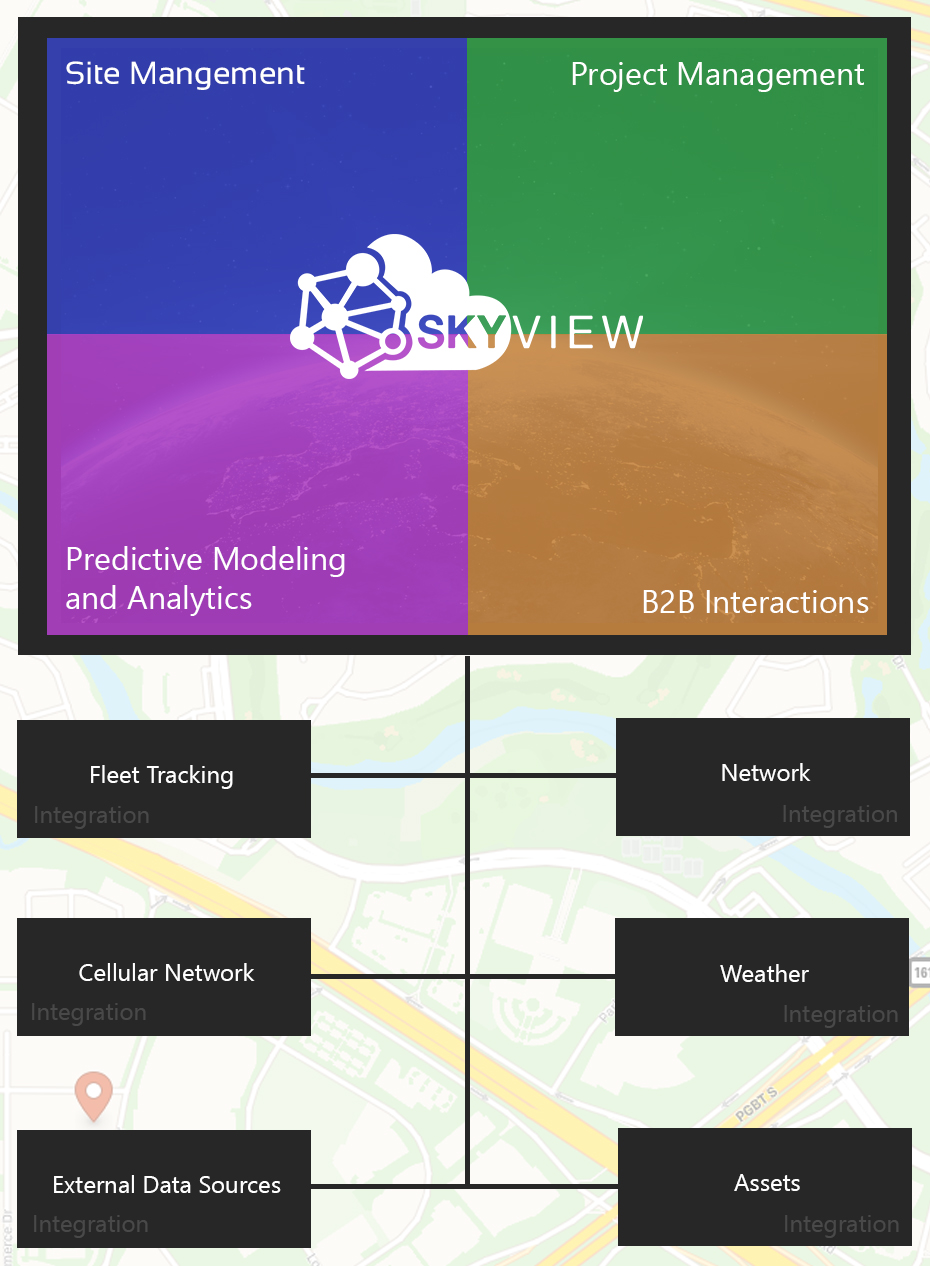 ---
Embracing a world of integrations
Skyview integrates with established solutions that provide pertinent data or function to the flow of site-based project management.
Fleet Tracking
Integrate with various fleet tracking tools such as Enterprise GeoTab
Network
Integrate with SNMP systems to gather important data about your network infrastructure
Cellular Network
See nearby cellular towers - use this information or let Skyview's algorithms use it for you
Weather
Site-based project management critically relies on weather and Skyview brings in weather data to give users the best tools to manage their work
External Data Sources
Skyview is flexible and can connect to external data sources to fuel features or provide more data for the analytics algorithms
Assets
Integrate with popular inventory/asset systems such as Cin7 so you know where your assets are and how they got there
---
--- Like what you see? We can show you more
Request a demo today!
---